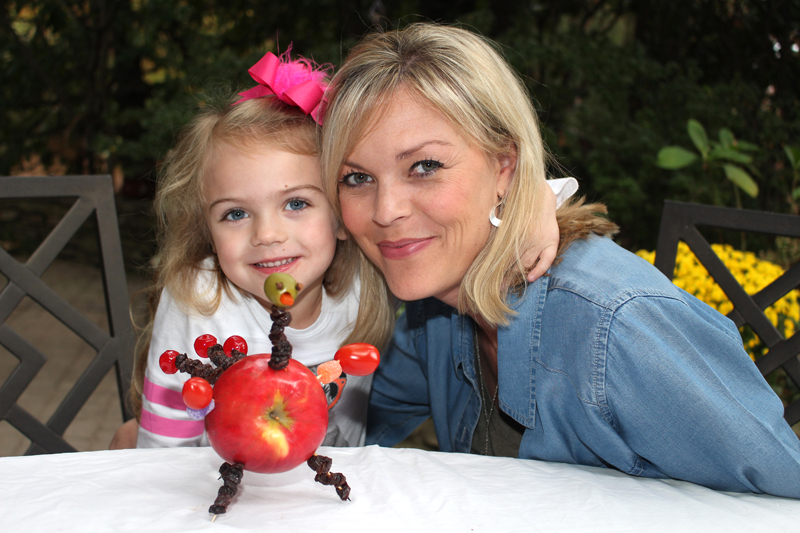 15 Nov

Thanksgiving Preschool STEM activity: How to make apple turkeys

Looking to make your preschooler's Thanksgiving fun AND educational? Look no further! We've turned a holiday snack into a Thanksgiving preschool STEM activity.

STEM stands for Science, Technology, Engineering, and Math. Activities that are STEM-based integrate these four areas of learning.

Preschool STEM activities help to develop early critical thinking and reasoning skills. They also support overall academic success. Early STEM education will develop curiosity, creativity, collaboration, and critical thinking, which are all in high demand later in life.

And, it's never too early to start STEM education, according to JD Chesloff, chair of the Massachusetts Board of Early Education and Care. "There is an exciting and powerful link between STEM and early childhood," Chesloff says in an article in Education Week. "Research confirms that the brain is particularly receptive to learning math and logic between the ages of 1 and 4, and that early math skills are the most powerful predictors of later learning." Chesloff also serves on the Massachusetts STEM Advisory Council's Executive Committee.
Thanksgiving Preschool STEM activity: Make apple turkeys
Our apple turkey preschool STEM activity involves experimenting and learning about the natural world (Science), using tools to measure (Technology), solving a problem during building (Engineering), and counting (Math).
Try creating this STEM snack for Thanksgiving and see what your preschooler learns!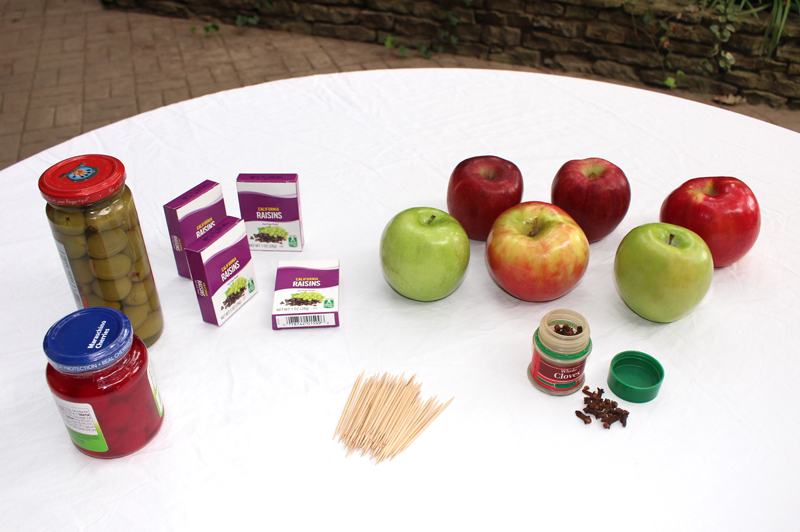 You will need:
apples
raisins
toothpicks *
green olives with pimentos **
whole cloves
maraschino cherries (in a jar) ***
pencil or permanent marker
*You can use square-tipped toothpicks instead of round-tipped ones. Just make sure they are sturdy and don't break easily.
**If you'd prefer not to use olives, use grapes or small grape tomatoes instead
*** If you'd prefer not to use cherries, use miniature marshmallows or gumdrops instead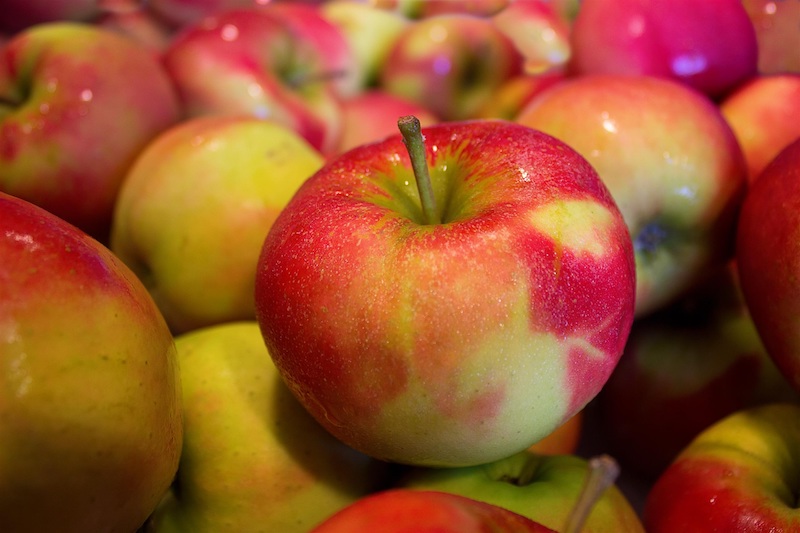 Investigate apples
At the grocery store, point out the different types of apples to your child. Discuss how they are different. Ask questions, such as:
What do you notice about all of these apples?
What is different between this apple and that apple? What is the same?
Point out how the apples are sorted into different bins or areas. Take a green apple from the green apple bin and add it to a red apple bin. Ask:
Do you think this apple belongs here? Where should it go?
Then, help your child choose apples to make into apple turkeys. For example, help her count the number of members in your family and then choose one apple for each member. She can choose different types of apples or the same type.
At home, read a book about apples and how they grow. Here are a few suggestions:
More ideas for investigating apples
Let your child take the lead on this apple investigation. It can be as short or as long as she wants! If your child wants to continue the investigation, here are some more ideas:
Cut open an extra apple and let your child find the seeds.
Discuss seeds of different fruits and vegetables.
Find seeds in other fruits and vegetables and let your child compare and contrast them with the apple seeds. Have her tell which seeds are bigger and which ones are smaller.
Let your child use a magnifying glass or toy microscope to look closely at the seeds.
Discuss what all plants need to grow: soil, water, sunlight. Ask your child to think about what might happen to a seed when it is planted in soil. Keep in mind that growing an apple tree from a seed is a long process that may not produce a result. If she wants to see a seed grow into a plant, try using seeds from a fast-growing plant such as a bean plant. Here is one way to quickly grow a bean plant using cotton balls, plastic bags, and a window.
Build the turkeys
Set out 7 toothpicks per apple turkey. Use the pencil to mark lines on each toothpick about one centimeter from each end.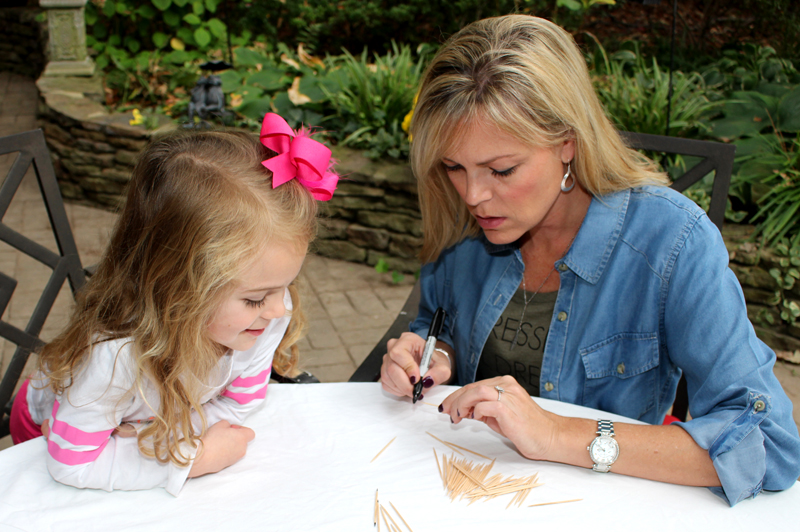 Help your child slide raisins onto each of the toothpicks. Have him count each raisin as he adds it to the toothpick. Make sure all of the raisins stay inside the lines.
Three of the raisin-filled toothpicks will become the turkey's tail feathers, and one will become the turkey's neck. Help your child add the tail feathers to an apple. Then help her add the neck.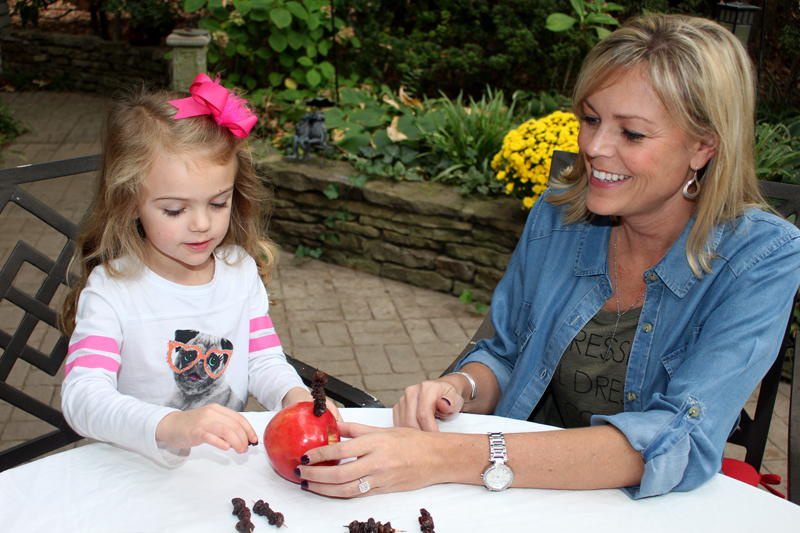 Assemble the head of the apple turkey, using an olive (or a grape). If using an olive, use a toothpick to pull out the pimento to look like a turkey beak. Then help your child add 2 whole cloves to the head to make the turkey's eyes. Have your child add the head to the top of the turkey's neck.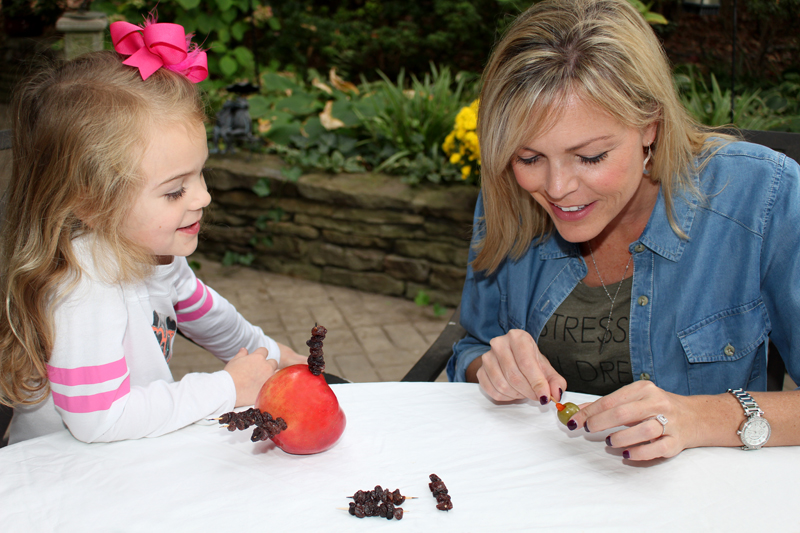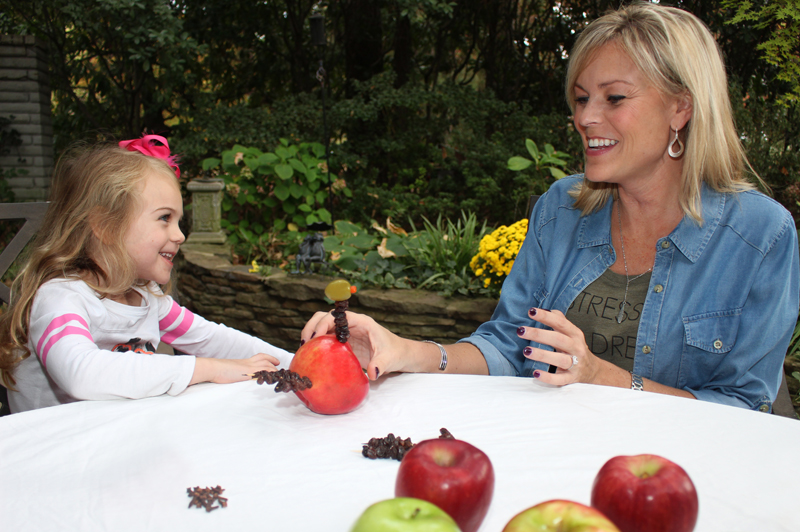 Add the tops of the tail feathers to the apple turkey. Guide your child to count out the cherries (or miniature marshmallows or gumdrops) and add them to the end of each tail feather.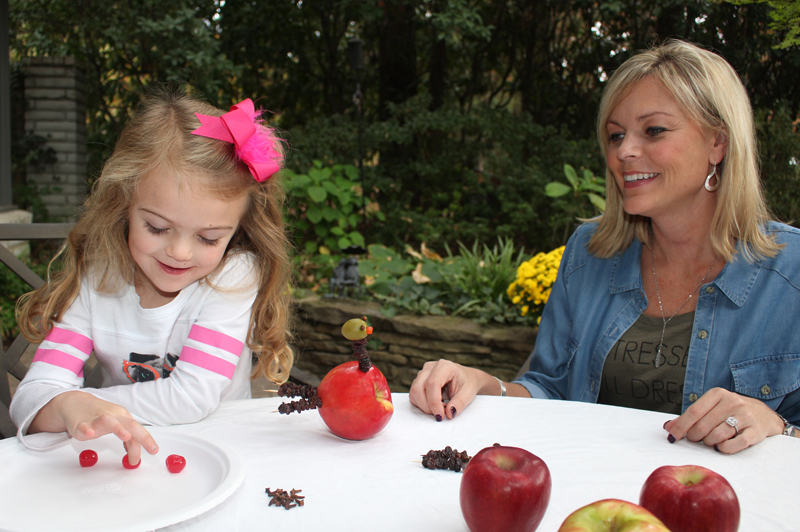 Explain that the turkeys need legs. Have your child divide the rest of the raisin-filled toothpicks among the remaining apples. Guide him to distribute an equal number of toothpicks for each apple. Then ask:
How many legs will these turkeys have? (They will have three.)
How many legs do real turkeys have? (two)
What do you think will happen if we give these apple turkeys two legs?
Let your child experiment with the number of legs for each apple turkey. He can choose to use two, three, and even four toothpicks for legs (to experiment with four legs, more raisin-filled toothpicks will need to be assembled). Let him decide which number is better. Typically, three to four legs are best for each turkey. Two legs will not provide enough support. Also let him experiment with spacing the legs on the bottom of the apple turkey. Help him discover that spacing the legs further apart helps to balance the weight of the apple.
After the building experiment, discuss why two legs didn't work. Ask questions about what happened during building, such as:
What happened when you gave your turkey two legs?
What happened when you put the legs too close together?
What did you discover about adding more legs?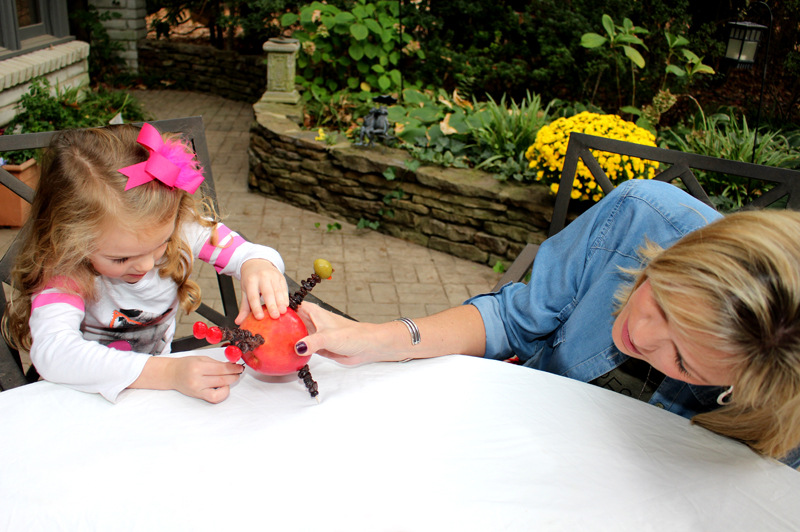 Be creative!
Let your child be as creative as she wants to be. She can add wings with additional toothpicks. Or she can choose additional food items to add to toothpicks, such as different varieties of miniature tomatoes, different varieties of grapes, soft candies, craisins instead of raisins, and so on. Keep in mind that apple turkeys do not have to look exactly like turkeys! Also, she might end up eating some of the turkey's "parts"!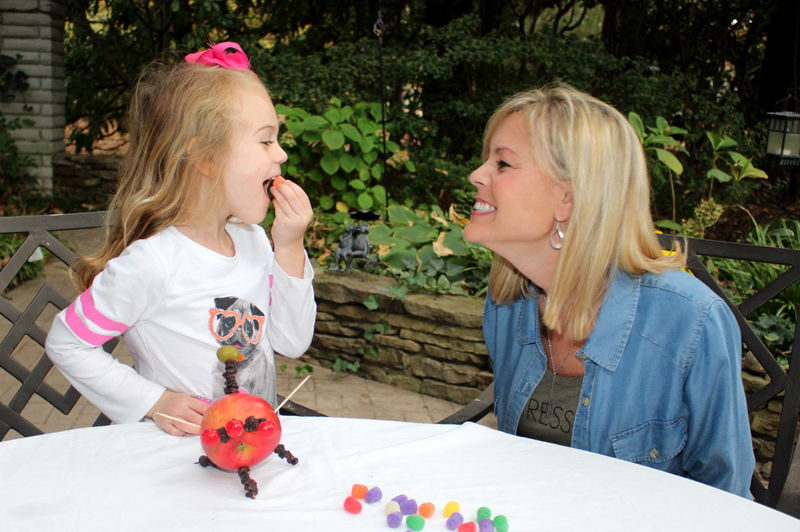 Make adjustments if necessary
If your child has trouble pushing raisins onto toothpicks, you can add the tail feathers and necks to the apples ahead of time. Then let your child add circle-shaped cereal to the tops of the toothpicks until they are filled.
Finally, remember that your goal is to let your child investigate, build, and create. The goal isn't to produce "perfect" apple turkeys. A preschool STEM activity should be flexible, allow time for creativity and problem solving, and include plenty of questions.
Let us know what you think about this hands-on Thanksgiving preschool STEM activity in the Comments section below. And feel free to post a photo of your little one's creative apple turkey on our Facebook wall!!
If you want to keep growing your preschoolers skills, we make it easy with the Dilly's Tree House family engagement program! Each activity only takes about 10 to 15 minutes a day and all materials except common household items are included.
Also, check out our post 9 simple ways to add STEM activities to your child's day for some great early STEM education ideas.