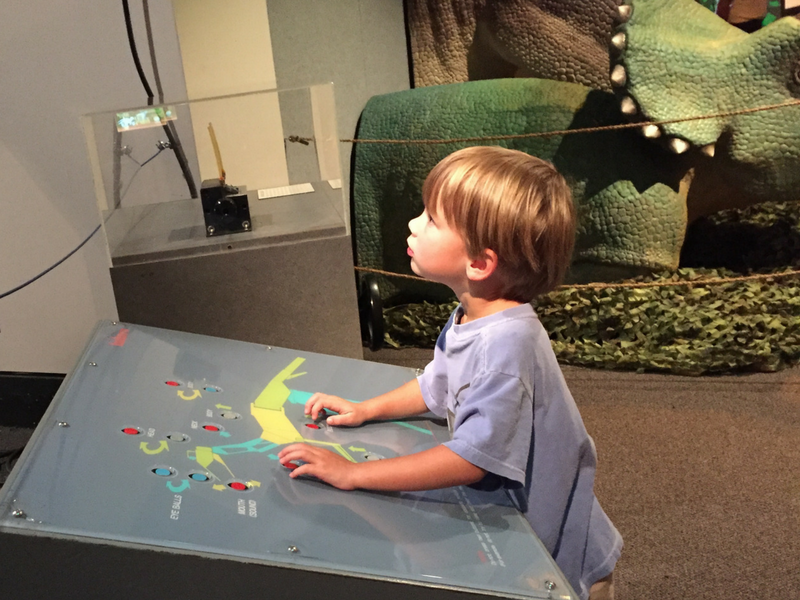 15 Feb

Making Memories: 8 Children's Museums to Experience with Your Preschooler

With spring and summer breaks just around the corner, it's time to think about using those breaks to make lasting memories for you and your children. Museums are a perfect catalyst for creating experiences for your family to cherish. And the best children's museums in the country might be closer than you think! Take a look at our list of the top-rated children's museums in the U.S.

We've rated these 8 museums based on hands-on learning while playing, appropriateness for ages 5 and under, and cost.

 
These 8 Children's Museums Will Not Disappoint
Features 100,000 square feet of interactive exhibits that include numerous areas for imaginative, hands-on learning play.
Areas geared for younger children include:
Play Pals, with a life-sized doll house, superhero figure play, teddy bear check-up area, and dress-up play
Wegmans Super Kids Market and Market Café (kid-sized pretend grocery store) with expanded toddler area
Interactive Sesame Street exhibit and playground
Interactive Berenstain Bears area that includes stores and club houses inspired by the popular books
Interactive Reading Adventureland (five literary landscapes inspired by children's books)
Carousel and kid-sized passenger train
Aquariums with low viewing surfaces for the littlest kids
Year-round indoor butterfly garden (additional cost)
Parents will also enjoy the nostalgic collections of toys and video games from the past.
Cost: $14 for adults and children ages 2 and over; Free for children under 2
Bonus! Some memberships at other science and children's museums are honored (if the museum is part of the Association of Children's Museums).
Features three floors of interactive exhibit areas.
Areas for children under 5 include:
Arthur® and Friends area, based on the popular books and TV series
John Hancock Science Playground (experiment with bubbles of all sizes, explore motion with golf balls and all types of tracks; use all the senses to investigate nature)
Peep's World, an interactive science-based world based on "Peep and the Big Wide World," especially appealing to children ages 3 to 5
PlaySpace for children ages 0 to 3
Countdown to Kindergarten interactive classroom, where preschoolers can experience a typical day of kindergarten
The Construction Zone, a kid-sized construction area with a real Bobcat that kids can ride in addition to ramps, bridges, tunnels, and a variety of blocks and building toys
Climbers and children over 5 will especially enjoy the three-story climbing sculpture in the New Balance Foundation Climb.
Cost: $16 for adults and children ages 1-15; Free for children under 12 months
Bonus! $1 admission on Friday nights from 5 to 9 p.m.
Features four levels of hands-on exhibits.
Areas that children under 5 will enjoy include:
Dinosphere, with areas to dig for dinosaur bones and touch an authentic rex bone
Chocolate Slide, a slide reminiscent of a river of chocolate
Circus—Starring YOU!, a three-ring interactive exhibit featuring the history of circuses and the chance to try your hand at a variety of circus tricks. (through November 26, 2017)
Glassblowing exhibit featuring huge blown glass tower by artist Dale Chihuly
Beyond Spaceship Earth, immersive exhibit telling the story of space exploration
Sensory fun for ages 5 and under in the Playscape
ScienceWorks (newly remodeled in 2016)
Treasures of Earth, recreations of an Egyptian tomb, a shipwreck, and an ancient Chinese burial site
Use the museum's user-friendly calendar of events to search for events tailored to specific ages on specific days.
Cost: $19.00 for children ages 2-17; $23.50 for adults ages 18-59; $22.50 for seniors ages 60 and over; free for children under 2
Bonus! Plan-Ahead Pricing begins March 13. Discounted rates available when you purchase tickets early.
Features 48,000 square feet over three floors of exhibits designed for children ages 0-10
Areas of particular interest:
BlockMania, with blocks of all shapes and sizes
Building Big, a fort building area with individual and cooperative building projects
Child-sized supermarket and café
Outdoor play exhibit
Ian's Corner, an imaginative space for toddlers to explore transportation
Art studio, an ever-changing array of hands-on art activities connected to museum exhibits
Special play areas for toddlers and children under 3
Unlike some museums, the Children's Museum of Phoenix encourages children to touch EVERYTHING!
Cost: $11 for adults and children; $10 for seniors ages 62 and over; free for children under 1
Bonus! Free admission on the first Friday of the month from 5 to 9 p.m.
Covers 7.5 acres in the shadow of the Golden Gate Bridge and includes numerous exhibits specifically for children ages 2 to 7.
Areas for young children to explore:
Rainforest Adventure, a multisensory expedition that introduces children to rainforests around the world (through May 7, 2017)
Bay Hall, playful simulations with an underwater tunnel, pretend-play ship, and train sets
Imagination Playground for open-ended, oversized block play
5-acre Lookout Cove for interactive outdoor exploring
Art studios featuring a variety of mediums and techniques
Indoor and outdoor Tot Spot (for infants and toddlers only)
Older siblings can explore digital fabrication technology in the Fab Lab (open only on select days and reservations are recommended).
Cost: $13.95 for children ages 1-17 and adults; $12.95 for babies ages 6 months to 11 months; $12.95 for seniors ages 65 and over
Bonus! Free admission on the first Wednesday of the month, and some discounts available for membership in associations such as AAA and other museums (within the Association of Children's Museums).
Includes two floors of interactive, hands-on exhibits.
Features that little ones will enjoy include:
The Fantastic World of Dan Yaccarino, special exhibition inspired by award-winning children's author and illustrator Dan Yaccarino (Opens March 11, 2017)
City Capers, child-sized cityscapes with construction zone, supermarket, hospital, and city park
Roadside Attractions, transportation themed role-play
River Adventures, science-based river and pond area
Alice in Wonderland exhibit
Replica of the Statue of Liberty's arm and torch made out of toys and other "found objects"
Please Touch Garden, and outdoor garden promoting sustainability
Toddler Zones for children age 0-3
Imagination Playground, an imaginary world of giant foam blocks
Antique carousel (rides are $3)
This museum is internationally recognized as a leader in purposeful play, with strong attention to creating learning opportunities in every gallery.
Cost: $19 for adults and children 1 and older; free for children under 1
Bonus! $2 admission during the hours of 4 to 7 p.m. on the first Wednesday of the month, and some discounts available for membership in associations such as AAA and other museums (within the Association of Children's Museums) and certain occupations such as firefighters, police officers, active military.
Features indoor and outdoor hands-on exhibits for babies and children ages 1 to 8
Areas specifically for children ages 2 to 5 include:
Three-story mountain adventure climb (ages 4 and up)
Smaller box canyon climb (ages 1 to 4)
Big Backyard with animal pretend play for children ages 2 to 5
Safe and soft play area for babies and toddlers ages 0 to 3 with divided sections
30,000-square-foot Joy Park for outdoor interactive fun for all ages, with zip lines, river exhibit, fort building, waterfalls, sand area, and river play
Pretend fire station with fire truck, sliding pole, and kid-sized firefighter gear
Pretend supermarket with 1940s-era play kitchen
Pretend vet clinic and dentist's office
Investigation areas for exploring bubbles, energy, physics (with balls and chutes, tracks, ramps), and water (boats and dams, water jets, geysers)
Creativity areas where kids of varying ages can make their own art, structures, and models with real materials
Daily cooking classes for all ages in a teaching kitchen (sign up when you get there as space is limited)
This spring and summer the museum is offering special events such as Bunny Trail, Earth Day, Joy Park Free Nights, and a 44th Birthday Bash. Check the calendar to take advantage of these big events.
Cost: $13 for adults and children 2 to 59; $11 for seniors age 60 and over; $11 for one-year-old children; free for children under 1
Bonus! Free admission from 4 to 8 p.m. on the first Tuesday of the month
Two-story museum that includes indoor and outdoor exhibits for children under 10
Areas that children under 5 will enjoy include:
Stair Trek: Core to Cosmos, new exhibit featuring an interactive journey through the Earth in a five-story stairwell
Neon glass work (through May 2017)
Authentic 1838 log cabin
Child-sized vintage hardware department modeled after Montgomery Ward (opened August 2016)
Possible-opolis™ exhibit—a fantastical climbing and crawling "city" with a giant hamster wheel
Rooftop nature area with baby chicks and other animals
Urb Garden on an outdoor deck with a tilapia tank, compost, and a greenhouse-treehouse
Wildernest, a place for children under five to explore, climb, slide, crawl, and play with water
This museum is not as large as other children's museums, but the exhibits, staff, and cost make it a great value. And, the Hole in the Wall exhibits scattered throughout the museum (children look through holes to see tiny rooms for Stuart Little-type characters) is a cool bonus.
Cost: $7.95 for adults and children 1 and over; $6.95 for seniors and grandparents; free for children under 1
Bonus! Some memberships at other science and children's museums are honored, and free admission from 5 to 8 p.m. on the first open Wednesday of the month.
If you can make it to any of these museums this spring or summer, you won't be disappointed. If not, any children's museum will provide opportunities to pique curiosity, explore ideas, talk about your experience, and create lasting memories.